Melbourne Skydeck Edge Experience
Off on another Accessible Adventure into the clouds. I seem to be hanging around in tall buildings a bit lately. This time the location is Melbourne Skydeck Edge Experience.
This is a great way to see the city sights and across greater Melbourne from nearly 300 metres high. The Sky Deck is accessible by lift and has ramps for easy access to move around the circular viewing area.
There is a small viewing area that is on the outside of the building where you can step out to view from what is like a mini balcony.  It can get a bit windy out there, so watch out for the hairdo.
Experience the Edge
I have completed the Edge Experience once before. It's an extension from the building like a little glass box holds you safely before you are totally surrounded by clear glass when the bottom the module turns transparent. Yes – you look down through the floor from nearly 300 metres above street level!
Right now the Sky Deck also has a virtual reality experience which I did not participate in as much of it is based around 3D viewing which is not suited to my vision impairment.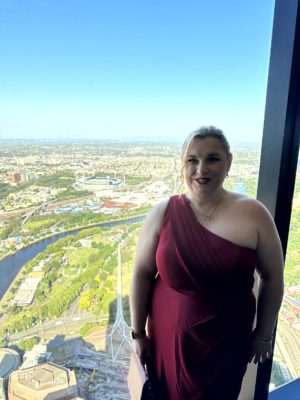 How accessible is this adventure?
Sky Deck does accept the Victorian Companion card and is definitely a great place to visit.
Eureka Tower is located in the city, so easy to get to by public transport and a must for both people who are visiting Melbourne and locals alike.
There is a restaurant on the level above Level 89 which was the main reason for the visit to the Sky Deck on this occasion.  Highly recommend the restaurant as well, however make sure you book in advance.
To book your Edge Experience visit Melbourne SkyDeck. Top of your evening with a great dinner at Eureka 89.