Melbourne Firefly Zipline
I missed out on this experience with Melbourne Firefly Zipline last year as I left it too late for a booking so made sure I was booked for the first day of action.  I booked online which was a straightforward process and did the online waver forms easily as well. The day I was booked I sent an email to Firefly to give them the heads up on my accessibility needs. They were really open with communication and advised that we could have booked with a companion card as well. This is on the website, however I must have missed it. Will know this for next time.
Safety first at Melbourne Firefly Zipline
When I arrived we did the check in process and then was introduced to Steve – the owner of the business. Steve assisted with getting me all harnessed up and made safe. We walked across the platforms from where I did the Quick Jump and the Zipline experience.
Steve Introduced me to his co-owner Sid who assisted to guide me through the safety again. Sid took direction from me as to the best way to explain the process and also how best to guide me.  They asked all the right questions and made sure that I was feeling safe and comfortable throughout the whole experience.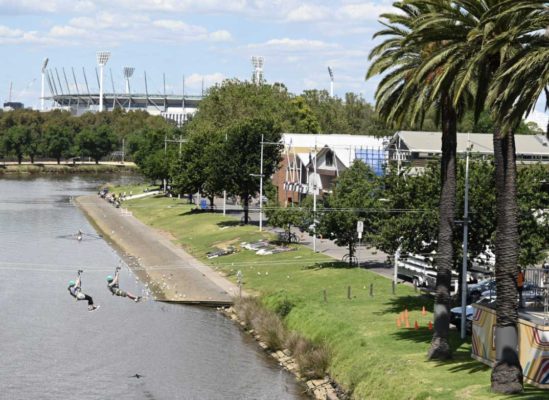 Image courtesy of Melbourne Firefly Zipline
Viewing the sights of Melbourne from the Zipline
When I completed the Quick Jump, Steve was at the bottom to ensure that I was able to unharness. Once my husband Paul had also jumped, Steve was able to lead me back to him to resume being my sighted guide to climb back up to the zip platform. Once linked to the zipline, off I flew across the river.
It was quite a quick ride but certainly long enough to have a look around.  Sights of the city would have been easy for a person who is not blind to see and just feeling the wind against my face and the feeling of freedom when I let go of the hand holds was exhilarating.
Steve must have scampered back across the other side of the set up as he was there to help release me from the zip line once I reached the end platform.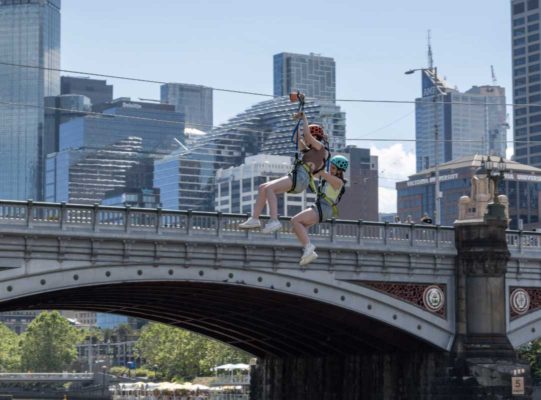 Image courtesy of Melbourne Firefly Zipline
The whole experience was fantastic.  I had hoped to revisit before they left as this is only set up  for a short time over the December/January period. Unfortunately I missed out on a second opportunity to visit but will be back again next year.
How accessible was this adventure?
The level of accessibility awareness was amazing with this provider. They were open with communication and asked lots of really useful questions. They made me feel safe and supported through the whole process. The staff were all very friendly and the location is fantastic and easy to reach via public transport.
The most exciting thing is that they also do specialised training for all their staff. Melbourne Firefly then schedule sessions for those who are wheelchair users. I did not see personally how this was managed, however the website gives you a bit more information on wheelchair accessibility.
Unlike many other providers, Melbourne Firefly Zipline specifically noted on their website available accommodations for people with disabilities (see their FAQs). They encourage you to contact with them to discuss your specific accessibility needs.
I highly recommend the Firefly Zipline experience from an Accessible Adventures perspective. It is a great activity to do while in the city for a day or night out. The set up is really great and the location not only gives you a great view of Melbourne but is easy to get to.
Looking forward to having another zipline experience with this company again next time they come to Melbourne.
If you are interested in visiting the Melbourne Firefly Zipline, they only operate from December to January each year. However, they have a mailing list so visit their website and sign up so you can book in for their next season.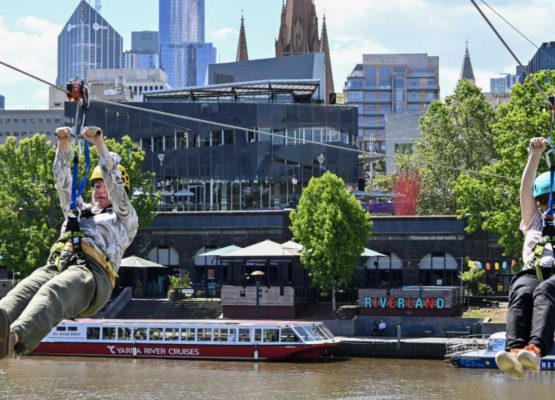 Image courtesy of Melbourne Firefly Zipline