Stand Up Paddleboarding
I thought I would give Stand Up Paddleboarding a go and found SUP-Fit on the lovely Mornington Peninsula.  I enquired via email and was contacted promptly by Mark who then arranged a phone call to gather information. We discussed my ability, experience and accessibility needs as well as what I hoped to achieve in the session.
Paddle Boarding for All Abilities
I immediately felt comfortable with Mark as he advised that he often takes school groups out to paddle board and needs to have an awareness of all levels of ability in a group setting as well as with smaller groups and individual clients.

Straight on the board
It was a lovely calm day when we arrived to begin this adventure. It was so peaceful the water was gently lapping like a swimming pool. We joined two other ladies for the lesson with Mark and after a short demonstration on the sand we were soon out on the water.
Paddle on your knees and get the hang of it and then when you are ready stand up. Seems easy –  and in fact it was. Not too long before I took the opportunity to rise to my feet and once I got the idea of balance once it was quite secure.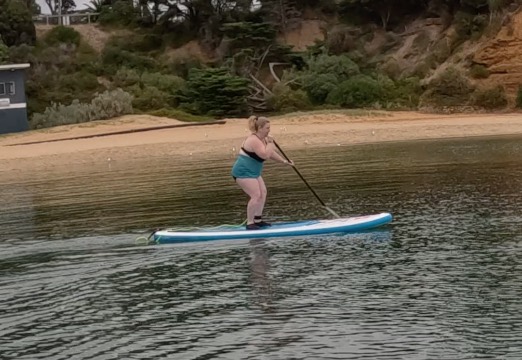 Navigating on a paddleboard
Making sure I was paddling with the right side of the paddle was a challenge and also making sure I was going in the right direction. When you can not see and there is not someone right next to you it is the requirement for the instructor to keep shouting and making sure I know the direction to go.
Paddleboarding challenges your muscles!
This was lots of fun and before we knew it, the time was up and it was all over. The aches in my legs and butt lasted days afterwards as a lovely reminder of the different muscle groups I used though!
And of course after going all the way to the beach, I went for a quick swim before it was time to head back to Melbourne. After not managing to fall into the water off the board I could not pass up the opportunity  for  some salt water therapy.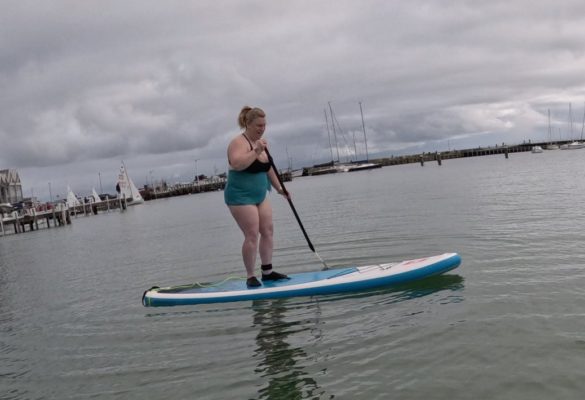 How accessible was this adventure?
So how accessible was the Stand Up Paddleboarding? Well the answer is that you can take it to the level of your comfort and ability which is good.  I feel that as long as you have a good instructor and support person you will be able to do this activity.
Mark was great at explaining things well and making sure we were all safe and achieved what we wanted from the session. So high fives for the paddle boarding –  although I do not think it is something I will pursue to do again in the future just out of personal preference.
Interested in trying Stand Up Paddleboarding?
I can highly recommend Mark as a instructor for stand up paddleboarding. Visit SUP-Fit's website to find out more about their lessons and the beautiful locations you can try this sport.